As Good As It Gets:
No compromises. This USB c keyboard cable is built to offer unmatched durability, unique aesthetics to compliment your setup, and everyday use practicality.

Detachable GX-16 Aviator Connector:
Effortlessly swap cables. Our USB c coiled cable keyboard cord features a GX-16 5-pin connector that detaches to support a wide range of similar connections.

Dual Braided Sleeve for Durability:
Built to last, this double-sleeved aviator cable has a tough exterior that protects against abrasion, fraying, and tearing while providing a beautiful texture.

Flexible Length for Improved Cable Management:
Keep your space tidy and looking good. The cable is 5ft in length but can be stretched out to 5.7ft so you can place your keyboard anywhere you desire.

Compatible with Most Keyboards:
The USB-C port on our coil cable is slim so it will fit most keyboards with type c. (Not compatible with keyboards with a built-in hub such as the Drop Shift / ALT / CTRL; it will power the keyboard but not the secondary hub)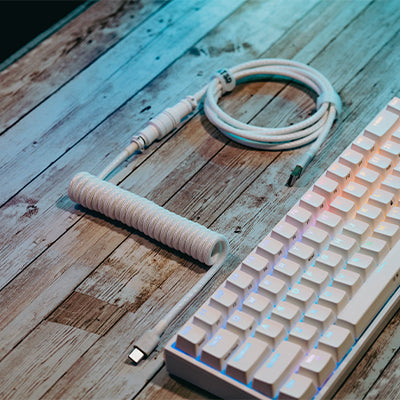 Detachable GX-16 Aviator Connector
Effortlessly swap cables. Our usb c coiled cable keyboard cord features a GX-16 5-pin connector that detaches to support a wide range of similar connections.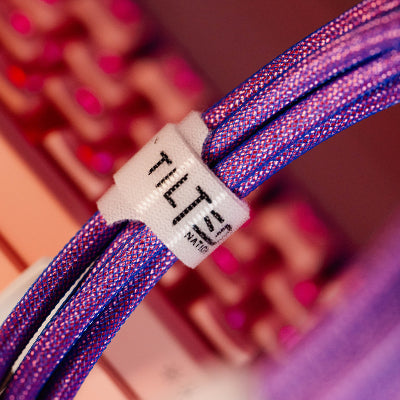 Dual Braided Sleeve for Durability
Built to last, this double sleeved aviator cable has a tough exterior that protects against abrasion, fraying, and tearing while providing a beautiful texture.
Compatible with Most Keyboards
The USB-C port on our coil cable is slim so it will fit most keyboards with type c.

PLEASE NOTE: This cable is not compatible with any keyboards with a built-in secondary USB HUB/PORTS such as the Drop Shift, Drop ALT and Drop CTRL keyboards. The TNAVIATOR Cable will power the keyboard but it will not provide enough power to utilize the secondary HUB/USB ports.
Specifications

• 5ft Length | Stretches to 5.7ft |
• Coiled Curl Length 4inUSB-C to USB-A Connection
• PET Dual Sleeved Construction (Nylon Blended Sheathing)
• Detachable GX-16 5-Pin Aviator Connector
• 28AWG Gauge Wire
• Ultra Slim USB-C and USB-A Ports

Shipping & Returns

Shipping: Your order means a lot to us. That's why we offer fast, safe and reliable delivery options for every item.

Returns: Not loving it? We offer returns for most items within 30 days of delivery for a refund or store credit.

Warranty: Comes with 1 year warranty (plus optional VIP warranty)